CLUB ICE
MOST FRIDAYS- AT THE COOLER
5:45 to 6:45 PM Red Rink
Club Ice Dates
2017
August 18, 25
September 8, 15, 22, 29

October 6, 13, 20, 27
November 3, 10, 17
December 1, 8

2018
January 5, 12, 19, 26

February 2, 9, 16, 23

March 2, 16, 23
April 13, 20, 27

May 4, 11, 18, 25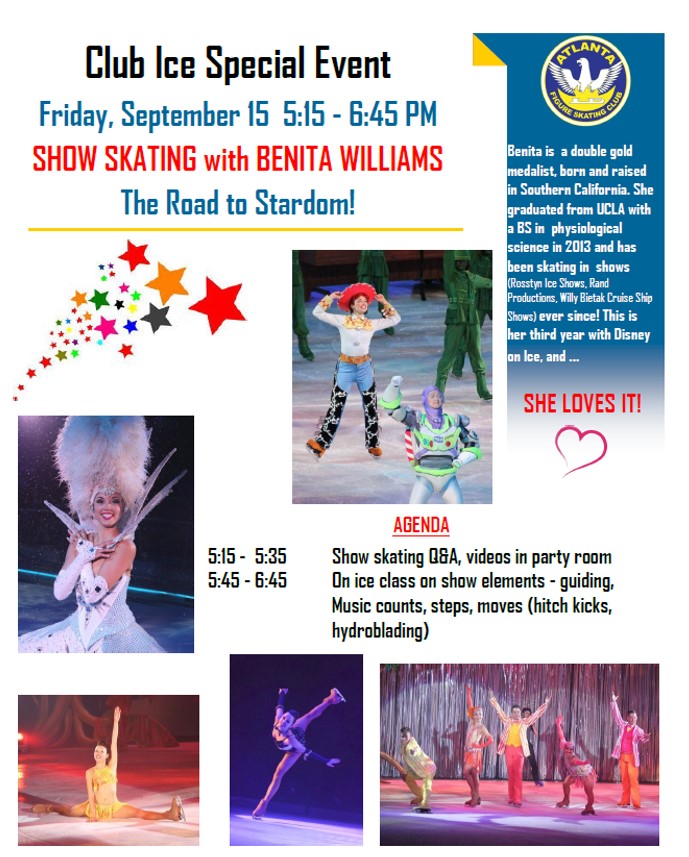 South Atlantic Regional Exhibitions
Exhibitions will be held on September 29 (non-qualifying) and October 6 (qualifying) followed by a pizza party on October 6. Please email Jennifer Latham at mikejenlatham@comcast.net by September 22 to reserve your spot on a first-come, first-served basis, and include your name and competition free skate level.
If you are competing at Regionals but not participating in the exhibitions, please email Jennifer so that an accurate number of gifts can be secured.
Club Ice Special Events

August 18 - Back to School "Grease" costume contest/Ice Cream Bar/National Showcase Exhibition

August 25 - National Solo Dance Exhibitions
September 15 - Show Skating with Benita Williams

September 29, October 6 - South Atlantics Exhibitions and Pizza Party
October 27 - HallowSkate Party
November 10* - Eastern Sectionals Exhibitions
November 17 - Thanksgiving Party
December 8 - Holiday Gift Exchange & Ugly Sweater Contest
January 5 - U.S. Championships Viewing Party
January 26 - National Skating Month - Bring a Friend
February 9 - Family Olympic Ceremony Party
March 2 - Magnolia Open Exhibitions
March 16 - St. Patrick's Day Party
May 18, 25 - Atlanta Open Exhibitions
*Contingent on members qualifying

Club Ice is offered to all full skating members who have passed Pre-Preliminary Moves or have been readiness tested by our Test Committee Coaches and to bridge members who have been readiness tested.

Rules for Club Ice
1. All full skating members must have passed the Pre-Preliminary Moves test or be readiness tested by our Test Committee coaches, and bridge members must have been readiness tested.

2. Safety takes precedent over the right to skate. A Club Ice monitor has the authority to remove any skater who poses a risk to other skaters.
3. Skate at your own risk.
4. All skaters must sign in with the Club Ice monitor before taking the ice.
5. Games of chase, tag, or racing, lines or trains, foul language, yelling, rough playing and sitting on/lying down on the ice are not allowed. No more than 2 skaters may hold hands.
6. Do not spray snow at others or throw snowballs or any other objects.
7. The AFSC and the rinks are not responsible for lost or stolen items.
8. Program/dance music is allowed, provided that the skaters' program does not interfere with other skaters' maneuvers.
9. Coaching (professional or parental) is not permitted on the ice.
10. Skaters must extend general courtesy and adhere to ice skating etiquette at all times.
11. Parents are responsible for minors (individuals under 18 years old) on and off the ice. The Atlanta FSC and the participating rinks do not provide supervision services.